Need a Vikings Themed Superbowl Snack?
By Vikings Ticket Staff Writer: R. Murray
Vikings Themed Superbowl Snack:
Even though the Vikings aren't playing in the superbowl this year (boo), we still think it would be fun to make some snacks in their honor. Read on for some easy ideas to make some quick snacks!
Vikings Cheesy Beer Dip:
Need a quick recipe for your Super Bowl party? What about this Minnesota Viking Cheesy Beer Dip? There's nothing more Minnesotan than the following dip. It's creamy, thick and delicious. (And, it includes beer!) What could possibly be a better combination on game day?

While you watch the big game, enjoy this easy dip. It's sure to be a hit with your guests or where ever you bring it!
Minnesota Viking Cheesy Beer Dip
2 small packages cream cheese
1 packet ranch dip mix
1 bottle Flaming Damsel (or your favorite beer!)
1 cup sharp cheddar cheese, shredded
Let cream cheese packages sit for about fifteen minutes until softened. Place one package in a medium bowl, flatten with fork. Add second package and do the same. Pour ranch dressing mix into bowl and blend on low to medium speeds. Slowly pour the beer into the bowl while mixing. Continue blending until smooth. Top with shredded cheddar cheese. Serve with pretzels and enjoy!
Vikings Fruit Pizza:
We used a classic fruit pizza recipe, but instead of using lots of fruit we busted out our Vikings pride and advise using pinapple (YELLOW) and blackberries (which have a purple-ish tint).
1/2 cup butter, softened
3/4 cup white sugar
1 egg
1 1/4 cups all-purpose flour
1 teaspoon cream of tartar
1/2 teaspoon baking soda
1/4 teaspoon salt
1 (8 ounce) package cream cheese
1/2 cup white sugar
2 teaspoons vanilla extract
2 cups blackberries
2 cups pinapple
1. Preheat oven to 350 degrees F (175 degrees C).
2. In a large bowl, cream together the butter and 3/4 cup sugar until smooth. Mix in egg. combine the flour, cream of tartar, baking soda and salt; stir into the creamed mixture until just blended. Press dough into an ungreased pizza pan.
3. Bake in preheated oven for 8 to 10 minutes, or until lightly browned. Cool.
4. In a large bowl, beat cream cheese with 1/2 cup sugar and vanilla until light. Spread on cooled crust.
5. Arrange fruit on top of filling, and chill.
Vikings Style Chicken Nachos:
Ingredients:
2 cloves garlic, crushed
6 green onions, sliced, white parts and tops separated
3 tablespoons canola oil
1 shredded, cooked, whole chicken breast
salt and pepper to taste
1 cup salsa
1/2 (12 ounce) package tortilla chips
1 (8 ounce) package shredded Cheddar/Monterey Jack cheese blend
1/2 large tomato, diced
1. Preheat oven to 350 degrees F (175 degrees C).
2. In a 12 inch skillet over medium heat, cook and stir the garlic and white parts of the green onions in canola oil until tender. Mix in shredded chicken, salt and pepper. Toss until well coated with oil. Stir in the salsa.
3. Arrange tortilla chips on a large baking sheet. Spoon the chicken mixture over tortilla chips. Top with Cheddar/Monterey Jack cheese blend and tomato. Bake in the preheated oven 10 minutes, or until cheese has melted. Remove from heat and sprinkle with green onion tops before serving.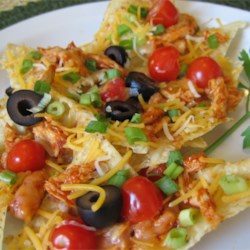 Vikings Are Excited for the Superbowl:
I'm not going to lie, I'm almost as excited for all this FOOD than the actual game. Just kidding... But actually. Good luck preparing these snacks, Vikings fans! And let us know how they turn out.
And, as always, GO VIKINGS GO!